Meet the people inside the Kingdom!~
For the understanding of the CDs and Revo, you can see the guide made by briar! Here and here! First of all, you really need to see those guides to understand this one, since this one is only about the other members!
So, new laurant, it's a great pleasure to see a new person on our beautiful and adorable kingdom! I really wish you don't just like Sound Horizon, but also LOVE it!
So… we are going to start with one of the most important members, Aramary!
Mariko Arai (Aramary)
Blog: http://aramari.com
Aramary is the first female singer and narrator of the band.
She joined Sound Horizon on 2002, in the second story CD called Thanatos, where she sang all the songs alone. On Lost, Chronicle 2nd and Elysion, she made almost all of the voices, even of the little male kids and old women.
She left sanhora after the Elysion live and no one really know why she left, but apparently, there had some little internal fight at that time.
After she left, she joined Rain Note and some other bands doujin, like Kimi no Museum.
She made a plent of characters, so sorry… I can't name them all.
Jimang
Site and Blog: http://jimang.com/ and http://ameblo.jp/jimang
JIMANG is the first male singer of the band, since Revo only started to sing on Roman, the 5th story CD.
Jimang (じまん ぐ) first joined on Lost, the 3rd story CD, singing (White Illusion and Mahotsukai Saraband, even thought it isn't so much) and narrating (Mahotsukai Saraband). He started his career at 1998. As a solo artist, he worked with some Touhou project's musics and in the circle doujin.
In Sound Horizon, almost all of his characters are old men and he is known by his "eccentric" and joyful personality.
In Lost, he was the man on Mahotsukai Saraband.
In Elysion, he was  ABYSS, El's father.
In Chronicle, he was Noah and Albers Alvarage/Alberge
In Pico Magic Reloaded, he was Armand Olivier and Christophe Jean-Jacques Saint-Laurant (who the fans says it's Savant)
In Roman, he was Auguste Laurant (Tenshi no Chouzou) and Savant (Tasogareno Kenja)
In Seisen no Iberia, he was Tsadi
In Moira, he was Alexey (a bilionary russian), the Pervert Priest (Shi to Nageki no Kaze no Miyako) and Milos
In Märchen, he was Kusobaba, the mirror and the hunter from Garasu no Hitsugi de Nemuru Himegimi.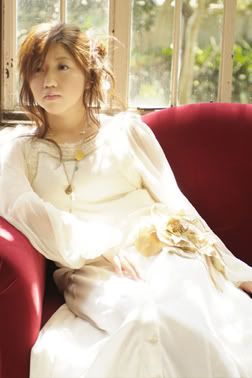 Haruka Shimotsuki
Birthday: 11/15
Blog: http://ameblo.jp/shimotsukin/
Haruka Shimotsuki (also know as Shimotsukin) is one of the few singers which joined Sanhora while Aramary still was there.
She is known for her doujin works with Maple leaf and other bands, also with kukui (Rozen Maiden endings) and ALSO with game songs, like Atelier Iris. She also is a fan of the "Tales of" series.
She first joined Sanhora in Lost and made a collaboration CD with Revo, called 01 - Schwarzweiß ~Kiri no Mukou ni Tsunagaru Sekai~ (which is the opening of Atelier Iris Grand Phantasm).

In Lost, she was the girl on Mahotsukai Saraband.
In Chronicle 2nd, she was Giulietta Simone del Viscontie and Siren.
In Moira, she was Melissa (Shi to Nageki Kaze no Miyako) and Phrygia, the third of the Harmonia sisters goddesses
Nakano Ritsuki (RIKKI)
Birthday: 01/19/1975
Blog: http://www.office-rikki.com/html/
Rikki first joined Sound Horizon in the CD Leviathan.
She started as a "traditional singer" as a kid and with 15 years old, she gained the All Japan Miyo, being one of the youngest singers to gain one. She also sang "Suteki Da Ne" from Final Fantasy X.
She is also known in the band as "Rikki-maman" because of her character in Roman.
In Roman, she sang Honoo and 11-moji no message, making Hiver's mother.
In Seisen no Iberia, she was one of the Gitano Sisters, Saranda.
Unfortunately, she didn't join the other CDs… When Moira was going to be produced, she was in Amami… because she was pregnant of twins (which is a cute coincidence XD)
One of her videos out of Sound Horizon:
http://www.youtube.com/watch?v=GdJVvyN3D04&feature=player_embedded
After the Aramary's left, some new singers, musicians and narrators joined! And it was… moreover… a "new age".
Yoshida Yuuki (YUUKI)
Birthday: 03/29/1989
Blog: http://blog.livedoor.jp/idolcheck_yoshidayuu/
Yuuki started her career with little pop bands for kids, joining SpringS (but being the first one to left the group too)
She joined Sanhora with only aproximately 14~15 years, in Roman.
In Roman, she was Hortense (Asa to Yoru no Monogatari/Roman), Étoile (Hoshikuzu no Kawahimo) and Monica (Utsukushiki Mono).
In Seisen no Iberia, she was Layla.
In Moira, she was Locria, the last of the Harmonia sisters goddesses.
Here is one of the videos when she was still a member of SpringS:
http://www.youtube.com/watch?v=r8wqKvyjf7c&feature=player_embedded
Unfortunately, the video with her as Zoey/Ichigo (Tokyo Mew Mew/Mew Mew Power) isn't on youtube anymore… ;3;
Tanaka Remi (REMI)
Birthday:01/06/1977
Blog: http://blog.goo.ne.jp/remi117
Remi is one of the singers which we don't have so much information, but we know that she joined some OSTs (like Mononoke, Naruto, GANTZ and Jigoku Shoujo) and sang one of the songs of Memories Off 2nd, and by some of her posts on her blog, she apparently knows how to play guitar, keyboard and a little of violin.
In Roman, she sang Norowareshi Houseki (where she was… Michele?) and Yorokobi to Kanashimi no Budoushu (as Lorraine)
In Seisen no Iberia, she was Trin, one of the Gitano Sisters.
In Moira, she was Mu/Myu and Doria (the second of the Harmonia sisters goddesses)
In Märchen, she was Buran-ko (Kuroki Okami no Yado)

In this video, she sings "Ashita Tenki Ni…" when she was younger (I don't know how much)
http://www.youtube.com/watch?v=L0CmrHKfY7o&feature=player_embedded
So… this will continue on the next part!